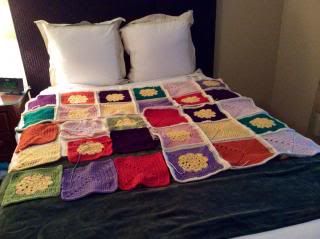 Woot Woot, it worked I've successfully posted a picture to my blog from my ipad. Thanks to a helpful person on facebook, Melissa. She indicated I needed to store the photo elsewhere and then paste the url here. So this picture goes with my previous post. And since taking this photo and trying for several days to do this, the afghan is done, so when I have a minute I'll try to retake and repost.
This is a test...see me jumping up and down, like I always do when I learn something new.
Thank you M, as we affectionately called her back during the days of The Hive.
All donations regardless of size and number are valued. All donations are appreciated. The Power of One is awesome, and when we work together The Power of One becomes The Power of Many.